Instructors | Farley's House of Pianos | Madison, WI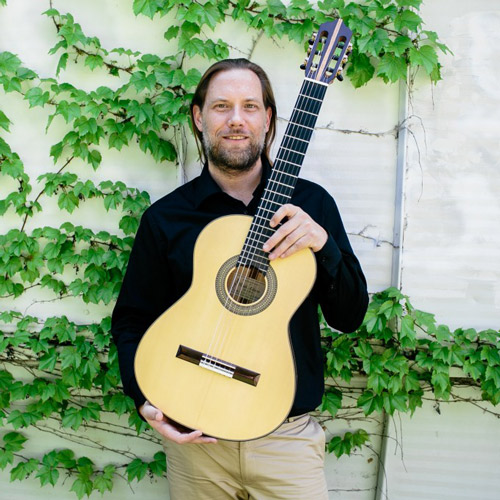 Chris Allen
Classical Guitar, Ukulele, and Mandolin
Chris has taught music for over 20 years. He earned his doctor of musical arts in classical guitar performance (with a minor in jazz studies) at the University of Wisconsin-Madison. Chris also holds a master's degree and bachelor's degree in classical guitar performance from Southern Illinois University Carbondale, where he participated in jazz ensemble and several jazz combos.
Chris is available to teach students five years old and up on Saturday afternoons.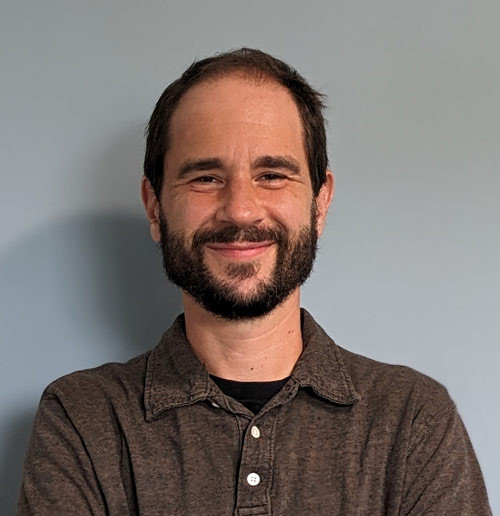 Chris Collins
Piano and Composition
Since 2003, Chris has professionally taught piano, drums, composition, and music production throughout the Madison area. He received his Bachelor of Music in piano performance from the University of Wisconsin-Stevens Point in 2001 and then went on to complete his Master's degree in the same field at the University of Minnesota–Twin Cities where he studied piano with Alexander Braginsky, pedagogy with Dr. Rebecca Shockley, and composition with world-renowned composer Judith Lang Zaimont.
Chris has composed music for many different instruments from piano to full symphony orchestra. He also has experience in electronic music production and has designed virtual instruments for many music software companies, including Acoustica, MuseScore, Newzik, and TimeWarp Technologies. This extensive background in composition, improvisation, and electronic music creation provides a solid resource for burgeoning young composers, whether they wish to write simple piano pieces or produce their own records.
For piano, Chris specializes in advanced technique, increasing mechanical efficiency to make the most challenging piano repertoire more accessible. Ultimately, Chris believes that learning music should be fun and rewarding, and he aims to fuel the love of music that drives students forward in practice every day.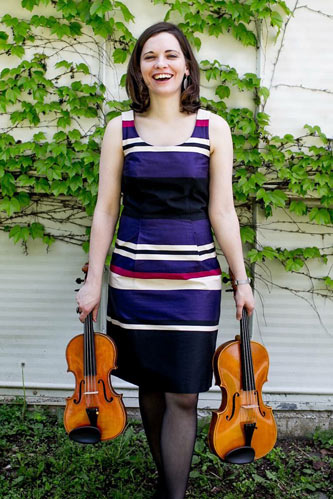 Shannon Farley
Violin and Viola
Shannon Farley has taught violin and viola privately since 2002, and is Suzuki-trained in Suzuki violin books 1-8 and Suzuki viola books 1-6. Shannon holds an M.M. degree from the University of Wisconsin-Madison where she studied with Professor Tyrone Greive. As an undergraduate, Shannon studied Photography and Violin Performance at the University of Minnesota-Twin Cities where she studied violin with Professor Mark Bjork and Minnesota Orchestra violinist Stephanie Arado. Prior to that, Shannon studied violin and viola at Interlochen Center for the Arts on a Scholarship from the Wisconsin Youth Symphony Orchestras. In addition to teaching, Shannon subs with the La Crosse Symphony on violin and viola and performs regularly in the Canzonetta Duo with classical guitarist Chris Allen.
Shannon's studios are currently full.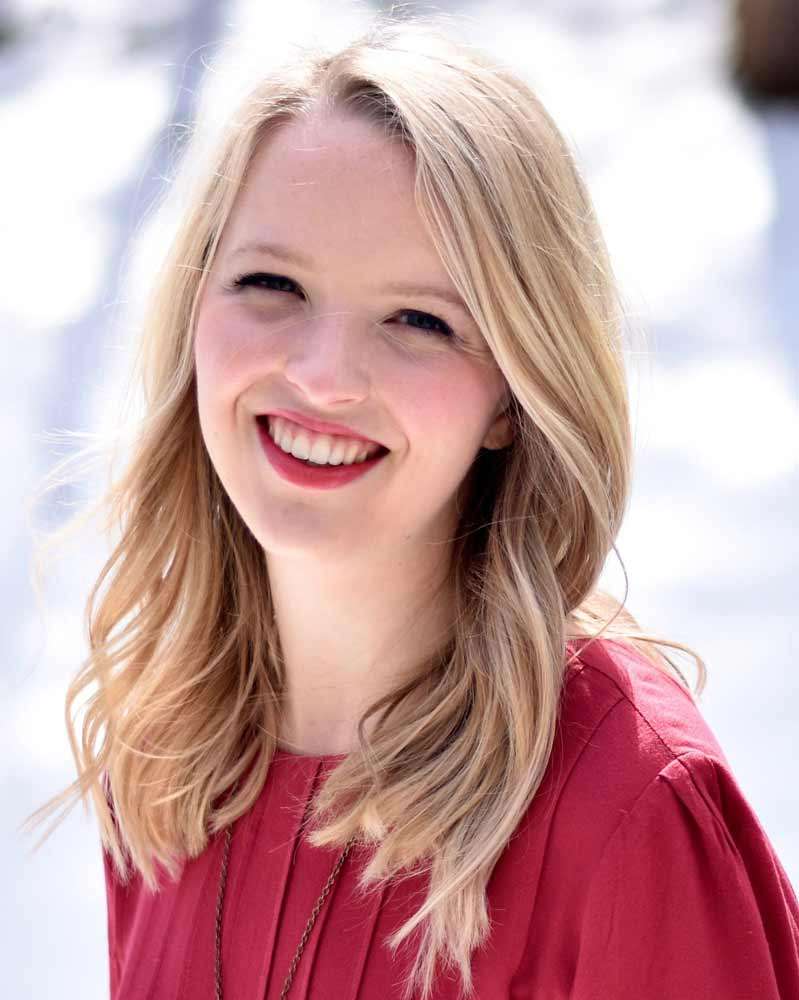 Alissa Freeman
Piano
With a unique profile in education, performance, and entrepreneurship, Alissa Freeman is a passionate musician who is always working on a new project. Her accomplishments in performance, pedagogy, and research have been vast and varied as the recipient of dozens of awards and grants, numerous full-tuition academic and music scholarships, and performances and presentations nationally and internationally.
As a performer, Alissa invites audiences to have new experiences in classical music by incorporating and contextualizing diverse programming. For example, one recent program was a series entitled Passports: Piano Music from Across the Continents which incorporated music inspired and written on each of the seven continents. In addition to finding works outside of the canon, she also enjoys tackling complex standard repertoire. She recently recorded the entire set of Chopin's Op. 25 etudes and was the soloist for performances of Rachmaninov's 2nd and Prokofiev's 2nd piano concertos.
Alissa is passionate about promoting women in music. As the creator of the ||:HerClassical:|| project, a new online resource, she has been a key leader in increasing the accessibility of works written by women from the classical era to pianists and pedagogues. Her most recent performance of Doreen Carwithen's Piano Concerto with the Ann Arbor Symphony was driven by a desire to help find and promote great works by women, and it was the Michigan premiere of this piece. This performance was released on YouTube as the first audio/video recording of the work.
Alissa Freeman recently completed her MM and DMA in piano pedagogy and performance at the University of Michigan, during which time she received many prestigious awards including the Rackham Doctoral Fellowship and Presser Graduate Music Award. She has studied with some of the world's top instructors, including Logan Skelton, John Ellis, Scott Holden, and Maria Prinz. During her undergraduate degree at Brigham Young University, Alissa became the first student in the school's history to perform concerti with all three of the university orchestras after winning school concerto competitions. When not playing or teaching the piano, Alissa loves immersing herself in nature with her husband and dog.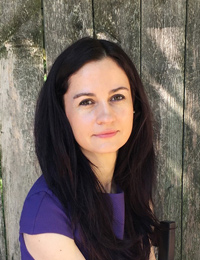 Ina Georgieva
Violin and Viola
Bulgarian-born violist Ina Georgieva is an experienced teacher, having taught violin and viola privately for over 10 years. She is certified to teach violin and viola in the Suzuki method, and received scholarships from the American Suzuki Institute and the Suzuki Association of the Americas in pursuit of this training. Ina is currently on faculty with WYSO Music Makers and coaches chamber music at WYSO. In addition, she teaches violin and viola at the Bearclaw String Academy and Music con Brio afterschool programs, and at Farley's House of Pianos chamber music program.
Ina is also an accomplished orchestra musician and chamber music performer. Currently a member of the Madison Symphony Orchestra, she was previously with Malta Philharmonic Orchestra, Sofia State Opera (Bulgaria), Theater Erfurt (Germany), and New Symphony Orchestra (Bulgaria). Ina holds degrees in viola performance from the National Academy of Music (Bulgaria), Hochschule für Musik Franz Liszt Weimar (Germany), and Texas Christian University (United States).
Ina lives on the east side of Madison with her husband, Charlie, and their two dogs, Mika and Cleo.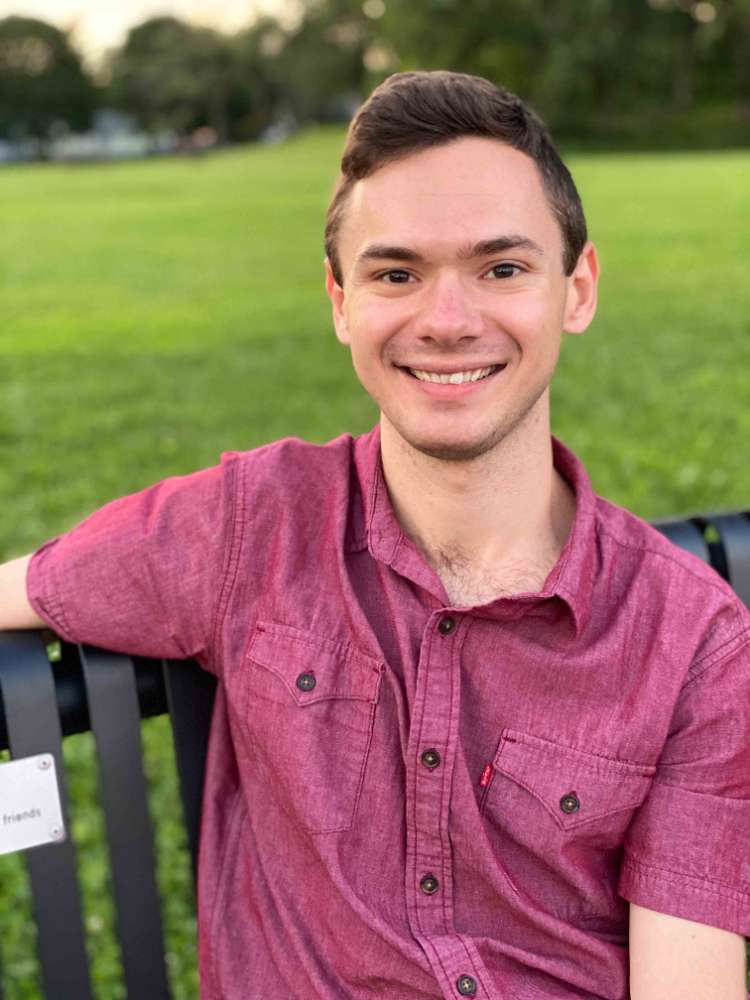 Ryan Grippo
Piano
Ryan has taught piano to students with a variety of skill sets and ages over the past eight years. His goal is to provide a creative, productive, and low-stress environment where students can tackle challenges without fear of judgement or failure. He received his Bachelor's in piano performance from the University of Colorado, studying under Jennifer Hayghe. He received his Master's in piano performance and pedagogy from the University of Oklahoma, studying piano with Igor Lipinski and pedagogy with Barbara Fast and Jane Magrath. During his time in Oklahoma, he worked as a graduate teaching assistant, offering both individual instruction and group piano courses. He received the Provost's Certificate of Distinction in Teaching for his efforts, signifying he was among the top 10% of graduate teachers university-wide. Outside of teaching, some of Ryan's favorite musical moments include performing in concert alongside composer Lowell Liebermann and premiering an originally composed piece during his Master's recital. While not at the piano, Ryan enjoys hiking and computer programming.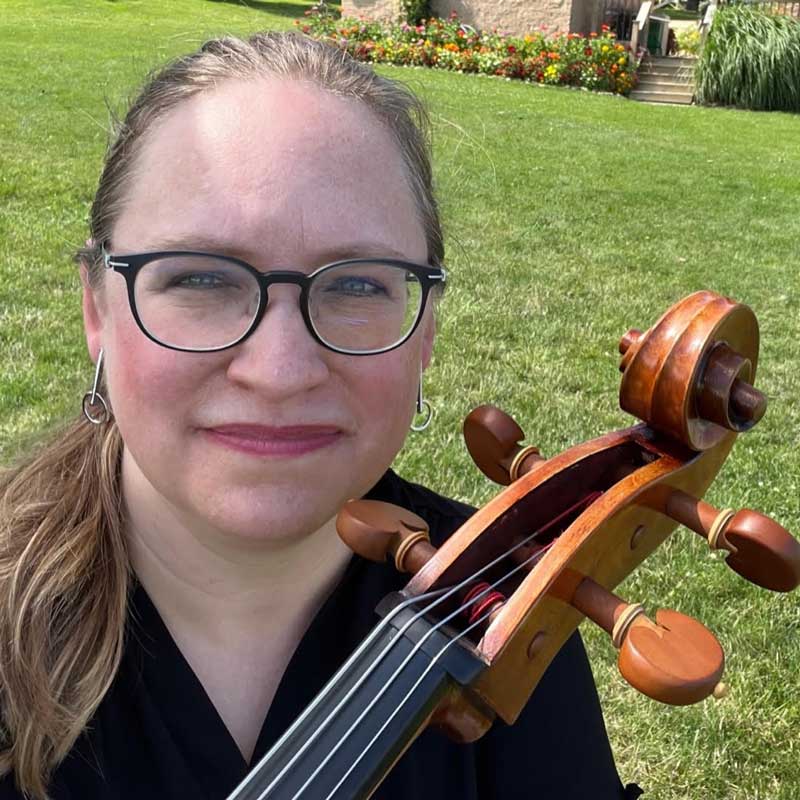 Amy Harr
Cello
Amy Harr is a native Madisonian cellist from a musical family who has performed and taught for nearly 40 years. An alum of West High and WYSO, she received her Bachelor of Music Education degree from UW-Madison and a Master of Music degree in Cello and Orchestra Performance from Rice University's Shepherd School of Music. She earned her certification in Suzuki Books 1-10 from University of Denver with Carol Tarr. Amy is the cellist of the Camerata String Quartet and Madison New Music Ensemble, has played with the Madison Symphony Orchestra and Wisconsin Chamber Orchestra, LunART Festival, Capitol City Theatre and Fresco Opera companies. Before moving back to Madison, she was Assistant Principal Cellist (Acting Principal) with the Houston Ballet Orchestra, Principal Cellist of the Symphony of Southeast Texas, and played with Houston Grand Opera Orchestra, Houston Symphony, Colorado Symphony, and Colorado Springs Symphony. She was principal cellist of the Colorado Ballet Orchestra and Denver Center Attractions, playing in the pit for many Broadway touring shows. She has played at summer music festivals including the Grand Teton Music Festival, AIMS Orchestra in Graz (Austria), Cuchara Music Festival (CO), National Repertory Orchestra, National Orchestral Institute, and Boston University Tanglewood Institute. She has also played with a tango band, accompanied rock concerts, played in many churches and for countless weddings. Amy is a chamber music coach for WYSO, leading chamber groups, cello sectionals, and summer camp sessions, and has had a private cello studio in both Denver and Madison. She has a son in college for jazz piano and music education, and she has completed two yoga teacher trainings, a black belt in karate, and is currently taking tap dancing classes.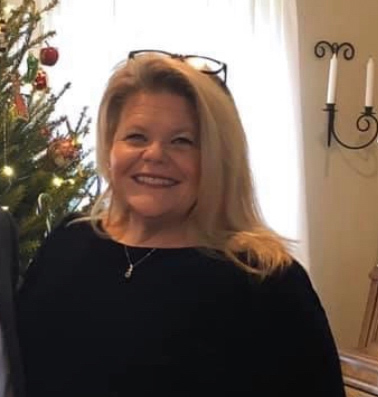 Siegrid Marks Sittard
Voice
Siegrid Marks Sittard has been singing professionally since she was a teenager. She holds a Bachelor of Music degree in voice from the Jacobs School of Music at Indiana University, Bloomington, where she also continued graduate studies. Teachers include Martha Lipton, Virginia Zeani and Elizabeth Daniels. In 1995, she was a finalist in the Metropolitan Opera Mid-Atlantic Region Young Artist Program Competition. An accomplished oratorio singer, Mrs. Sittard has been featured as soprano soloist in performances of such works as Carmina Burana of Orff, Haydn's Creation, Vivaldi's Gloria, and the Requiems of Mozart, Faure, Durufle and Rutter.
Siegrid has maintained an active teaching schedule for the past thirty years, with extensive experience instructing students of all ages, including serving on the faculty of the Performing Arts School and Bancroft Academy of Worcester, Massachusetts and as primary music teacher at the ABC Stewart Montessori School in Columbus, Indiana. Most recently, she was on faculty at the Cranbrook Educational Community in Bloomfield Hills, Michigan.
A trained massage therapist with a certificate from the Pittsburgh School of Massage Therapy, Siegrid has an excellent understanding of the functional workings and musculature of the human voice. That knowledge, coupled with her practical understanding of the Bel Canto vocal technique, ensures that her students sing not only musically, but also with a healthy vocal hygiene.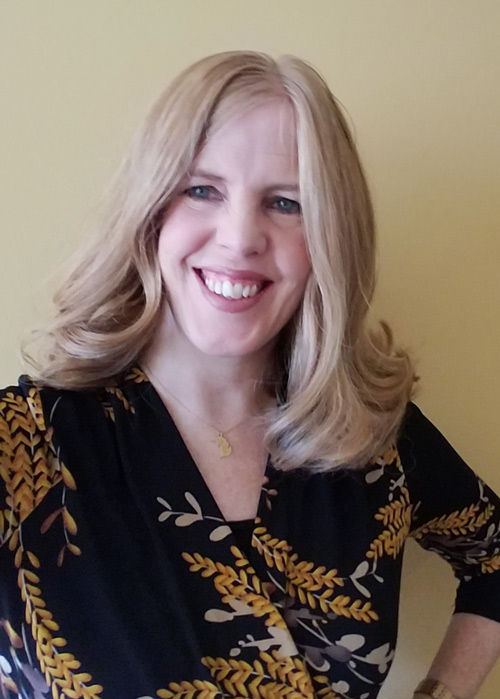 Carol Nuelle
Piano
Carol Nuelle recently moved to Madison from Ann Arbor, MI. In Ann Arbor, she was on the faculty at the Faber Piano Institute, founded by Randall and Nancy Faber, authors of the widely used Piano Adventures piano method books. During her tenure at the Faber Piano Institute she taught private lessons, group lessons and master classes. Carol earned her music degree from Eastern Illinois University and has taught young as well as adult students since January of 2005. She has built thriving piano studios in both Chicago and Ann Arbor. She is committed to making piano enjoyable and customized for each student while training theory and fundamentals. Although Carol has had many performing experiences, her true passions are teaching and the joy of music.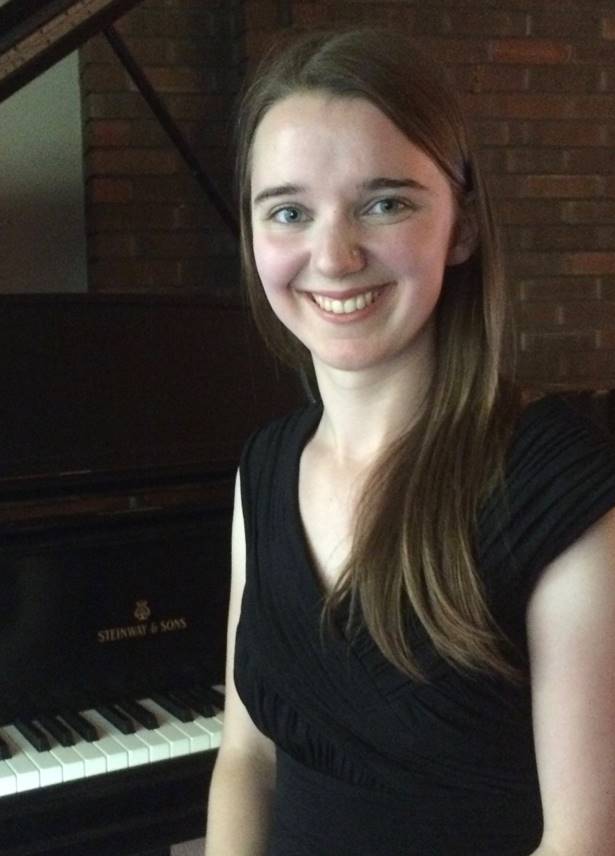 Sarah Prescott
Piano
Sarah Prescott holds a Bachelor of Arts in Music from the University of Chicago. As an active member of the University of Chicago classical music scene, she gave recitals both on and off campus and accompanied students in the Vocal Program. While in Chicago, Sarah was awarded the Visiting Committee Music Lesson Stipend Award in 2012 and 2013, as well as winning second place in the Illinois State Music Teachers Association (ISMTA) Competition in 2012 and third place in 2013. Committed to bringing music into the lives of the next generation, she has taught piano to young children and accompanied high school choirs on Chicago's South Side. Sarah is motivated by the conviction that music should always be a creative and exciting pursuit, and believes in fostering students' individual creative voices. A Madison native and former Farley's student, Sarah is delighted to be teaching at the place where her love of music began.
Zachary Preucil
Cello
Dr. Zachary Preucil enjoys a variety of activities as a performer and educator. Currently, Dr. Preucil is principal cellist of the La Crosse Symphony Orchestra, serves on the cello faculty at Carroll University, and is a member of Trio des Éléments along with clarinetist Sarah Manasreh and pianist Katherine Petersen. At Farley's, he maintains a private teaching studio and co-directs and coaches in the chamber music program. Recently, Dr. Preucil has performed with the Wisconsin Philharmonic and the Dubuque Symphony, and has appeared on the International Music Foundation's "Rush Hour" Concert Series, Midsummer's Music Festival, Green Lake Music Festival, the MIC Faculty/Guest Artist Series, Concerts in the Shed, Caroga Lake Music Festival, and as a soloist with the Schaumburg Youth Symphony at Chicago's Orchestra Hall. Dr. Preucil has been praised by the press for his "gorgeous phrasing, attractive color, nimble finger work and lyrical quality" (Hyde Park Herald), and his solo and chamber music performances have been broadcast on Wisconsin Public Radio and WFMT Chicago.
Previously, Dr. Preucil served on the faculties of the Music Institute of Chicago, Kanack School of Musical Artistry, Music for Youth of Arlington Heights, and the UW-Madison Community Music School, and has given masterclasses at St. Olaf College, Wheaton College Community School for the Arts, Community Cello Works of Blacksburg, Virginia, and MIC Winter Workshops. Additionally, he has held teaching assistantships at the Eastman School of Music and the University of Wisconsin-Madison, and a teaching fellowship at the International Cello Institute, where he has subsequently served as a guest clinician and director of the iConnect mentorship program for young cellists. He has coached chamber music at the Music Institute of Chicago, the Schaumburg Youth Orchestra and Wisconsin Youth Symphony Orchestra programs.
Dr. Preucil holds a D.M.A. in Cello Performance and a minor in Arts Administration from the University of Wisconsin-Madison, where he was inducted into the school's chapters of Phi Kappa Phi and the National Society for Leadership and Success. He received his M.M. in Cello Performance and an Arts Leadership Certificate from the Eastman School of Music as a Pi Kappa Lambda inductee, and his B.M. in Cello Performance with honors from the New England Conservatory of Music. His primary teachers have included Uri Vardi, David Ying, Yeesun Kim, and Walter Preucil, and he has studied chamber music with members of the Borromeo, Pro Arte, and Ying Quartets. Further education has included summer studies at the Aspen Music Festival, Bowdoin Music Festival, the Castleman Quartet Programs, the National Summer Cello Institute and Interlochen Arts Camp, and registered training in the Suzuki Cello Method with Dr. Tanya Carey, Jean Dexter and Rick Mooney. Dr. Preucil is a certified teacher trainer in the Creative Ability Development method, having worked extensively with its founder, Alice Kanack. An interest in arts administration led Dr. Preucil to intern with the Rochester Philharmonic Orchestra, Midsummer's Music Festival and the Wisconsin Chamber Orchestra. He serves on the executive board of Creative Ability Development, Inc., and is a member of the Association of Arts Administration Educators, Madison Area Music Educators, Independent String Teachers of Madison, and the College Music Society.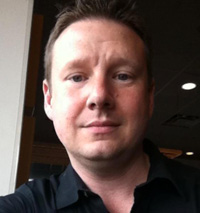 Chris Rottmayer
Piano
Chris Rottmayer is a jazz pianist, composer, and jazz vibraphonist living in Madison, Wisconsin. Chris attended Capital University in Bexley, Ohio as a jazz studies major and as a percussion performance major, and holds a BA in Music from Rollins College in Winter Park, Florida and an MM in Jazz Composition and Jazz Performance from the University of South Florida. Currently, Chris is pursuing a DMA in Piano Performance at the University of Wisconsin-Madison, living full time in Madison, and developing a Madison-based private teaching studio.
Chris has been a freelance jazz pianist since 1990 and a pianist for Walt Disney World since 1999, and has released two albums as a leader: Reactive Synthesis (2013) and Sunday at Pilars (2019). Chris is currently the Instructor of Jazz Piano at the University of South Florida, where he has taught since 2007.
After his first stint in college, Chris worked for eight years as a show band pianist on cruise ships, working two of those years as a bandleader. During those eight years Chris worked for Costa, Royal, Princess, Norwegian, and Seabourn Cruise Lines. Chris moved to Orlando, FL in 1998 and began working as a sideman and leader for many different clients including Disney, Universal, the Orlando Philharmonic, Michael Andrew and Swingerhead, the Paul Vesco Orchestra, Groovelogic, Dirty Martini and the Grand Bohemian hotel. He is a first call studio player, having played many recording sessions. Chris has played many shows and is comfortable reading and accompanying singers. He has a strong background working with keyboards and technology.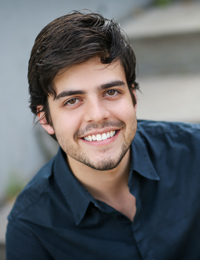 Vinícius Sant'Ana
Violin
Brazilian-born violinist Vinícius Sant'Ana has concertized across four continents. As a chamber musician, he has toured China, Japan, the Czech Republic, Brazil, and the United States as a member of the Red River Trio, and has also been a member of the University of North Dakota String Quartet. Sant'Ana has performed with leading Brazilian orchestras including the Brazilian Symphony Orchestra, Mato Grosso Symphony Orchestra, and Municipal Theater Orchestra of São Paulo. He performs regularly with the Quad-City Symphony, the La Crosse Symphony, and Fox Valley Symphony.
A dedicated educator, Sant'Ana maintains a private teaching studio and is a chamber music instructor at Farley's House of Pianos. Additionally, he has served as a violin instructor for the Summer Chamber Music Camp in Manhattan, KS, Arioso School of Music and Northern Valley Youth Orchestra, ND.
Winner of the São Paulo Young Artist Competition, Grand Forks Symphony Competition, and the Bismarck Symphony Competition, among others, Vinícius Sant'Ana, at age 16 performed the Viotti Violin Concerto No. 22 with the Preludio Symphony under the baton of Julio Medaglia for the nationally televised Preludio Classical Music Competition. He earned his Master of Music degree at the University of Wisconsin-Madison under the guidance of Dr. Soh-Hyun Altino, and served as Teaching Assistant for the Madison Symphony Orchestra's Up Close & Musical® program, introducing K-3 students to the basic elements of music. Sant'Ana received his Bachelor of Music degree from the University of North Dakota, where he studied with the Argentinian violinist Alejandro Drago.
Currently, Vinícius is a member of the Griffon String Quartet, a full-time ensemble based in Door County, WI.
Sant'Ana plays a 1908 Giulio Ettore Degani violin and Henry Guerra bow. When not performing, Sant'Ana enjoys playing ping pong, soccer, swimming and kayaking.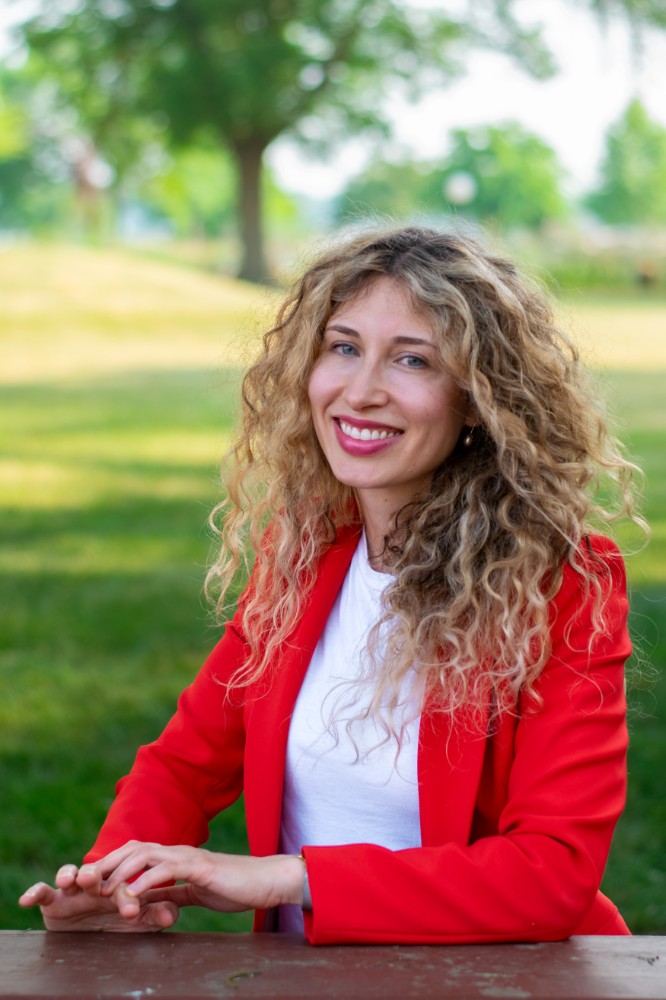 Daria Tennikova
Piano
Daria Tennikova is a composer, pianist, and educator based in Madison. She received a collaborative piano and pedagogy degree from Saint Petersburg, Russia, Bachelor of Music degree in Composition from UW-Madison with a minor in German Studies, and a Master of Music degree in Composition from Rice University. She is now back at the Mead Witter School of Music at UW-Madison pursuing a Doctor of Musical Arts degree under the mentorship of Laura Schwendinger, Jessica Johnson, and Christopher Taylor.
Daria started teaching piano in 2007 and since then has explored her potential as an educator in a variety of subjects and educational settings. Thus, she acquired an invaluable personal experience with various learning strategies, which helped shape her current teaching philosophy.
She has become adept in teaching both children and adults of diverse musical and cultural backgrounds. Daria's previous teaching practice includes the roles of instructor in music theory through the Preparatory Music Program at Rice University and foreign languages at Fluent City school in NYC. Being an avid chess enthusiast, she also taught chess to K-5 pupils as part of the afterschool program, through summer chess camps, and through private lessons. From 2017 to 2021 Daria had her own studio in NYC where she taught piano, theory, and composition to young children. In her recent TA appointment in music theory at UW-Madison, Daria teaches Aural Skills and Ear Training labs to sophomore students.
In pursuit of honing her teaching skills further and sharing her musical knowledge, Daria created a YouTube channel with meaningful instructional videos and performances.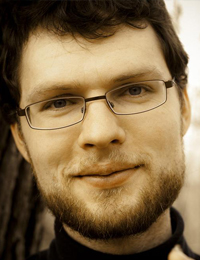 Jonathan Thornton
Piano
Pianist Jonathan Thornton has been teaching for most of the past decade. He has taught private lessons ranging from the youngest beginners to advanced university students and retired adult students. He has also taught ear training and class piano as part of teaching assistantships during undergraduate and graduate study. In addition to this diverse teaching experience, he has performed solo and collaborative recitals around the United States and in parts of Europe.
Jonathan received a Doctor of Musical Arts degree from the University of Wisconsin-Madison. He studied with Christopher Taylor and was a winner of the 2012 UW-Madison Beethoven competition.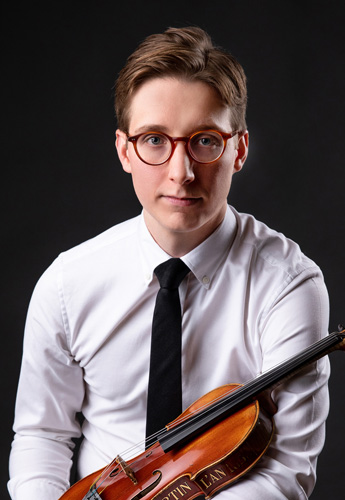 Clayton Tillotson
Violin
With more than a decade of teaching experience, Clayton Tillotson has helped students of all levels become efficient problem solvers, develop comfort and ease in playing, and convincingly express their musical ideas to audiences. He holds Bachelor's and Master's degrees in Violin Performance from the University of Wisconsin-Madison, where he studied with David Perry of the Pro Arte Quartet and was awarded a full scholarship position in UW's prestigious graduate Hunt Quartet. He also earned an artist diploma from The Glenn Gould School of The Royal Conservatory in Toronto where he studied with the renowned violin pedagogue, Paul Kantor.
Clayton has spent many summers at music festivals across the United States and has been a fellowship recipient at the Aspen Music Festival, an artist/faculty member at the Caroga Lake Music Festival, and chamber music prizewinner at the Meadowmount School of Music. In addition to teaching privately, he also coaches violin and chamber music for the Wisconsin Youth Symphony Orchestras. He regularly performs with ensembles such as the Madison Symphony and the Wisconsin Chamber Orchestra, and has performed live on Wisconsin Public Radio's "The Midday."
Praise from students often reflect that lessons with Clayton are "an amazing experience!" Parents have observed that "his attention to detail is unmatched," and noted, "it was immediately clear to me that Clayton understands kids." And colleagues have noticed that students "cannot stop talking about how incredible Mr. Tillotson's classes are each week."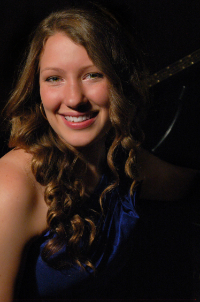 Sarah Williams
Piano
Sarah Williams has taught piano privately for over six years out of her studio in Appleton, Wisconsin. She is passionate about making music a fun but stimulating life-changing experience for her students, both young children to adults. At UW-Oshkosh, while studying piano performance with Dr. Eli Kalman, she worked as vice-president of Oshkosh Collegiate Music Teachers' Association and assisted in different pedagogical events such as Fun for Two, a duet and duo piano workshop open to the community. Since finishing her bachelor's degree, she is now attending UW-Madison for a master's in collaborative piano with Martha Fischer. As a performer, she has won competitions such as the UW-Oshkosh Concerto Competition, the UW-Oshkosh Honors Competition, and UW-Oshkosh Celebration of Scholarship. Besides teaching and performing, Sarah has accompanied a wide range of ensembles including Badger State Girls' Choir, UW-Oshkosh University Choir, UW-Oshkosh Women's Choir, UW-Oshkosh Opera Theater, UW-Oshkosh Wind Ensemble, as well as all UWO vocal auditions.